NOTE: THIS POSITION DOES NOT ACCRUE SENIORITY WITH THE PASADENA AREA COMMUNITY COLLEGE DISTRICT.
DEFINITION
This position is responsible for setting up, monitoring, and invoicing student loans and grants, scholarships, campus purchase orders, and all other account receivables.
EXAMPLES OF DUTIES:
Assumes responsibility of closing and opening the store on an assigned shift.
Operates point-of-sale cash register, credit card, and copier equipment, and makes minor adjustments.
Accounts for sales, works with cashiers balancing register sales and cash, makes change from safe, securing tills, safe, and store for the night.
Supervises others, answers questions about policies and procedures, and ensures that such are properly followed.
Works with others in training regular, student, and temporary personnel in cashiering and customer service.
Assists assigned personnel with refunds or exchanges following policy, makes exceptions as necessary.
Maintains "bad check list" adds or deletes names as necessary in the point-of-sale system, and keeps register copies current.
Processes invoices and requisitions for book loans and purchases by campus departments. On the register, rings-up charges and subsequent payments received on account.
At the request of the Director, performs a variety of unscheduled duties normally and traditionally performed by a Senior Cashier.
MINIMUM QUALIFICATIONS
Education and Experience: High-school graduation and two years of experience selling items involving cashiering and accounting for funds on a point-of-sale system.
If you do not possess the stated minimum qualifications listed for this position, you may request an equivalency by providing the information necessary for the Equivalency Committee to make a determination that you have qualifications that are equivalent to the stated minimum (see page 3).
Knowledge and Abilities: Knowledge of practices and procedures related to proper handling of cash and credit cards. Knowledge of office procedures in accounting for money and billing processes. Knowledge of arithmetic processes. Knowledge in basic computer data entry. Ability to count cash, make proper change, and balance registers. Ability to operate point-of-sale registers, credit card equipment, copier, and make minor equipment adjustments. Ability to supervise others and schedule work. Ability to meet and work with the public (student or staff) in a multiethnic environment.
PHYSICAL ABILITIES:
Seeing to inspect written documents, communicate with District staff, standing for extended periods of time, bending, kneeling and reaching to retrieve and file records, and dexterity of hands and fingers to operate a keyboard and other office equipment.
PROBATIONARY PERIOD: One year.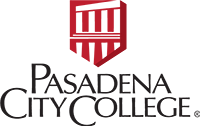 Pasadena City College
1570 East Colorado Boulevard, Pasadena, CA 91106
(626) 585-7361 direct ⋅ (626) 525-7924 fax