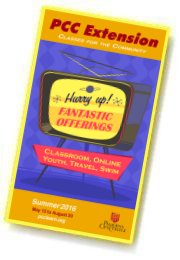 For more information regarding our courses,
visit our website at:
PCC Extension provides professional development, workforce training, personal enrichment, and lifelong learning classes, workshops, and programs to the community at large.
PCC Extension publishes three catalogs each year and maintains a dynamic website and Facebook page. Student registrations number 10,000 annually; and more than 300 independent contract instructors work through the PCC Extension office. Classes are held at the main campus, at CEC, and at numerous off-campus sites. PCC Extension in partnership with online program companies also offers numerous distance education classes and programs many of which culminate in certificates of recognition. Each summer, PCC Extension offers programs for youth such as swim and reading. PCC Extension is self-supporting and receives no state funding. Classes are not-for-credit.