Hate has
no place
at PCC.
Tolerance, like any aspect of peace, is forever a work in progress, never completed and, if we're as intelligent as we like to think we are, never abandoned.
Octavia Butler, PCC alumna 1968
"Pasadena City College will work to activate every member of our community to take a stand against racially motivated hate, intimidation, threats and violence."
Dr. Cynthia Olivo, Vice President, Student Services
Dr. Rebecca Cobb, Dean of Student Life
Dr. Kari Bolen, Chief Diversity, Equity, and Inclusion Officer
"The real power of any movement is how we work together with other social justice movements."
Dustin Lance Black, PCC Alumnus 1994
"The right of every American to first-class citizenship is the most important issue of our time."
Jackie Robinson, PCC Alumnus 1936
"One of the greatest things in life is that no one has the authority to tell you what you want to be. You're the one who'll decide what you want to be."
Jaime Escalante, PCC Alumnus 1969
Hate has no place at PCC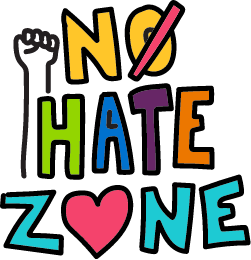 #stophate
PCC denounces hatred and violence in all its forms and is committed to humanity and social justice as an ongoing endeavor that we highly value.
Many organizations within PCC have passed resolutions or issued official statements condemning hatred.
Black Lives Matter at PCC is more than a statement. It is a governing principle for real dialogue, fearless inquiry, and deliberate action that will align our college community with the core belief that systemic racism has no place in our society.
Many organizations within PCC have passed resolutions or issued official statements condemning hatred and affirming the college's commitment to the health, safety, well-being, and progress of our Black/African American students, faculty and staff.
April 20, 2021
Dear colleagues:
Today we have heard the news that a jury in Minneapolis found former police officer Derek Chauvin guilty on all counts when he caused the death of George Floyd last May. I am sure I speak for the entire PCC community when I say that I am pleased to know that justice in this case has been done.
George Floyd's death has come to represent the horrifyingly pervasive violence that is committed against Black, indigenous people of color. While today's ruling indicates that there will be consequences for those who commit violence, in too many cases the perpetrators of this violence have not been held responsible for their deadly actions. More importantly, there is no justice in a system that continues to incarcerate BIPOC men and women at disproportionate rates; that refuses to allow equitable access to housing, jobs, and education opportunities; and that applies immense pressure on families, young people, and communities that strive for progress. The news from Minneapolis today delivers only a fraction of the justice that so many of our friends, colleagues, and neighbors need to bring their lives back into balance.
As the ramifications of this case continue to be felt, here and around the country, I encourage you to discuss your views. Talk with people and share your thoughts, so that we can work together to advance the cause for justice. At PCC, we will have opportunities for our "head space" to match our "heart space" in relation to these developments, starting with a community conversation on Thursday. More details will be sent separately.
If these events are causing someone you know to feel stress or anxiety, please encourage them to seek help. PCC's Employee Assistance Program provides free and low-cost counseling services on demand for staff and faculty, and the Personal Counseling office is available for students in need of help.
My thoughts are with George Floyd, his family, and all who have been affected by police violence. I encourage you to reflect on these issues today as well.
Sincerely,
Erika Endrijonas, Ph.D.
Dear Lancer Community,
On Saturday, June 19th, we honor the end of slavery in the United States and the day in 1865 when news of the Emancipation Proclamation – issued by President Lincoln two and a half years earlier – finally reached the last remaining slaves in Texas. The year following, freed persons in Texas organized the first annual celebration of "Jubilee Day" on June 19. Now known as Juneteenth, it is the oldest known celebration of the end of slavery and perhaps the most significant event in American history. It is a date that acknowledges the fundamental promise of America: for a life of equality, liberty and freedom for all. One hundred and fifty-six years later, we are still pursuing that American promise.
Juneteenth recognizes a belated liberation for Black people in the United States, yet is a reminder that, although our nation has come a long way from our history of state-sanctioned slavery and segregation, the continuing work to promote racial equality and justice for all remains unfinished. As we welcome Juneteenth as a federal holiday written into law, we cannot help but to reflect on the lives lost and the dreams deferred by acts of racially-motivated violence and systemic injustice. Our work must continue to address the legacies of systemic oppression still present in our day—in education, healthcare, housing, economic prosperity and the justice system. We move forward, as a College, in recognition of the work that remains for us—as a community and as a nation—to achieve the full promise of freedom.
As a moment of collective reflection in the global fight for racial equality, join the Pasadena and Altadena community for a series of events to mark the Juneteenth holiday:
Come take part as we celebrate the significance of this day and a renewed fight against racial injustice in America.
In Solidarity,
Kari E. Bolen, Ed.D.
Chief Diversity, Equity, and Inclusion Officer
In solidarity.