Complete Your Calculus Sequence & Be Ready for Future STEM Courses
Taking Calculus this Fall? Want to learn mathematics in a supportive and caring community? Then consider the Calculus Achievement for Success Program! Our brand new Calculus program here at PCC designed just for STEM students!
The CAS program gives you extra class time and support to review algebra skills by building a sense of community among your peers, instructors, tutors and a personalized counselor. CAS helps your complete your Calculus sequence and guides you into future STEM courses and careers.
Apply to CAS Learn More About CAS
Have questions? Contact us at cas4stem@pasasdena.edu.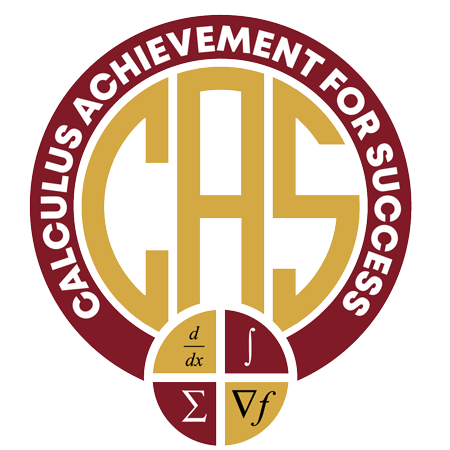 Benefits on Benefits on Benefits!!
Blocked Registration
If you enroll and remain active in this program, then you are guaranteed a spot in a CAS instructors class each semester from Math 5A, Math 5B, and Math 5C.
Tutoring
In class tutors for Math 5A and 5B and tutors for all calculus courses are present in the CAS study space
Career Workshops
Learn about STEM careers that interest you
Personalized Study Space
a room dedicated to our CAS students for supplemental calss time and general study space
Dedicated Counselor
the CAS counselor will be present in class and in the study space to meet with you
Technology
Ipad rentals will be available and we will incorporate technology in lessons and real-life applications related to your future STEM career goals
More About the CAS Program
Why is Calc important?
Calculus is the gateway to the start of your STEM Career! Calculus, and mathematics in general, provide the foundation for your critical and analytical thinking skills. Employers often like to hire applicants with math degrees or math training because they know those individuals are well-trained in problem-solving!
Why is Being Successful in Calculus so Important?
In the world we live in, technology is everywhere–just look at your smartphone for example! Understanding calculus is teaching you how to approach problems you don't know how to solve and come up with effective solutions. This is a skill that is important in any career!
CAS Class Schedules
Fall 2022 Availability - All Single Variable Calculus I Courses (Math 005A)

FYE Cohort
This cohort is for students incoming to PCC from high school or students who took a break from college courses and are enrolling or re-enrolling and placed into Calculus 1 (Math 5A). The students we seek are those who feel that there may be gaps in their knowledge from their last math class that could make Calculus 1 difficult for them. The purpose of this course is to help close gaps in algebra and trigonometry as they come up in Calculus topics. We also want to help students adjust to the format and studying skills needed to be successful in college courses.
FYE Cohort Times:
Supplemental Time (MW 8:15 am to 9:30am)
Class Time (MW 9:45am - 12:15pm)
Continuing on to Math 5A Cohort
This cohort is meant for students who passed Math 8 or Math 9 at PCC and were placed into Math 5A. We are looking for students who passed but feel that the course was tough to complete or feel that they may have trouble handling the pacing of a regular Math 5A course. The purpose of this cohort is to create a comfortable safe place to ask for help on algebra and trigonometry topics that did not stick from Math 3, 8, or 9. Using this additional time can allow students time to understand the Calculus while revisiting topics that students need to review.
Continuing Cohort Time:
Class Time (T, Th 1:15pm - 3:45pm)
Support Time (T, Th 4:00pm - 5:15pm)
Repeating Math 5A Cohort
This cohort is meant for students who withdrew from or failed Math 5A recently. There are many real-life reasons that a student was unable to complete Math 5A with a passing grade and that is okay. We are here to help you have a better experience with support systems in place. We are looking for students who are ready to come in with a clean slate and are committed to putting in the supplemental time to make this the time to be successful in Math 5A. We will learn from the past to make adjustments to enhance your success and understanding of Calculus 1 and the algebra and trig needed to be successful in future Calculus courses.
Repeating Cohort Time:
Class Time (T, Th 4:00pm - 6:30pm)

Support Time (T, Th 6:45pm - 8:00pm)
---
Ready to Get Started?
Step 1: Submit an Application
Doesn't this sound great? Don't you want to take Calculus through CAS? The next step is to Apply!
Step 2: Attend Summer Bridge
There will be a three-day summer bridge program that all CAS students are required to attend. During this bridge program we will have time to get to know your cohorts, learn more about CAS, and to talk generally about how to be successful as a student.

CAS Summer Bridge #1: August 15th, 2022 to August 17th, 2022
9am to 3pm meeting at the Circadian

CAS Summer Bridge #2: August 22nd, 2022 to August 24th, 2022
9am to 3pm meeting at the Circadian
Please fill out the form below if you were accepted to the CAS program to determine which summer bridge you'll be a part of
Have questions? Contact us at cas4stem@pasasdena.edu.