Admission
Ready to get started in one of our Medical Assisting programs? Follow the steps below to complete the application process and begin the Medical Assisting program!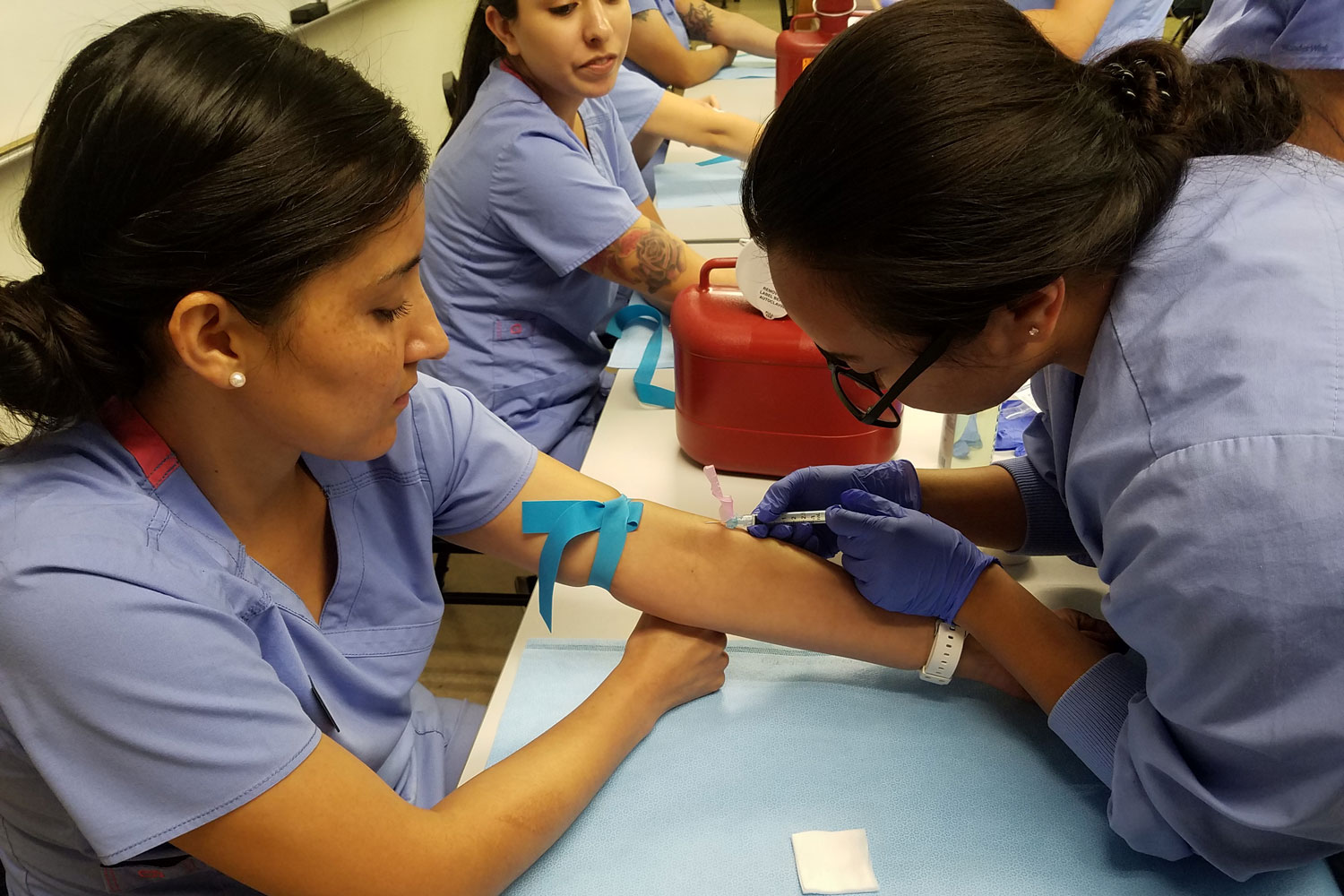 Selection Criteria
You will be selected to the program based on completion of all required documentation and space availability. It is strongly recommended to complete Medical Terminology, Anatomy 25 or Biology 3 prior to applying for admission to the program. Additional qualified applicants will be placed on an alternate list.
Application Filing Period
The application filing period is April 18th - July 18th for fall semester enrollment, and September 15 thru October 31 for Spring enrollment. Applications are only available during the application period.
How to Apply
1 Apply for admission to PCC
If you are not currently enrolled at PCC, you need to apply for admission to the college in addition to applying to the Medical Assistant program. Apply now to PCC .
2 Complete Your Online Application
To apply to the Medical Assistant program, you need to submit an online application which includes:
A completed Medical Assistant Application
One official U.S. high school transcript, GED certificate, or Equivalency Report from one of the college's acceptable companies.


Note: The above is not required if an associate or higher degree is posted on your U.S. college transcripts

One official transcript of ALL U.S. colleges and universities attended, including Pasadena City College.


If you have foreign transcripts, please read our information on how to have your transcripts evaluated.
Be aware that unofficial transcripts and photocopies of diplomas are not acceptable, and incomplete applications will not be considered in the selection process. If you are accepted into the program, the college's Records Office will also require transcripts.
3 Submit Your Official Transcripts
Submit your official High School and College transcripts, you can mail or deliver it in person to the Health Sciences office.
Pasadena City College
Attn: Medical Assisting Program
1570 E Colorado Blvd. W204
Pasadena, CA 91106
If you have any questions contact the Division Office at 626-585-3308.
Program Acceptance
The Health Sciences Division will inform you of the status of your application by email upon submission of all required documentation.
Upon selection to the program, you will be required to complete:

A health clearance
A background check
An American Heart Association Basic Life Support for Health Care Providers card
A First Aid certificate
A COVID - 19 vaccine

While in the program, you must maintain a grade of "C" or higher in each course in order to progress to the next level.
A conviction of a felony may be grounds for ineligibility to take the National Certification Examination of the American Association of Medical Assistants. Any conviction must be cleared for eligibility prior to taking the National AAMA certification examination. This clearance is the responsibility of the individual.
Technical Standards
The intent of the program is to develop competent medical assistants who can provide satisfactory healthcare to the general population. Students are expected to complete all academic and clinical requirement of the program. The following technical standards specify those attributes that the MA faculty consider necessary for completing the professional education and subsequently enabling the graduate to enter the workforce.
Levels
O
Occasionally
50% - 74%
F
Frequently
75% - 89%
C
Constantly
90% - 100%
| | |
| --- | --- |
| Physical Standards | Frequency |
| LIFT: patients, equipment - up to 100 lbs. | F |
| CARRY: equipment, objects - up to 25 lbs. | F |
| KNEEL: to perform CPR; assist patients who fall; to retrieve items from a storage cabinet | O |
| STOOP/BEND/TWIST: to position the examination table, perform transfers | F |
| BALANCE: safely maintain while Assistant patients in ambulation and transfer. | F |
| CROUCH: to locate and plug in equipment | O |
| REACH: to adjust equipment, to guard patient, to reach supplies | C |
| HANDLE: equipment such as syringes, BP cuffs | C |
| DEXTERITY: manipulate and fine tune knobs, dials, blood pressure cuffs tools, equipment, instruments, scales, phlebotomy, injection instruments, prepare and use equipment while maintaining sterile technique and keyboard 30 wpm. | C |
| PUSH/PULL: wheelchairs, stretchers, patients | C |
| WALK: a distance of at least 2 miles during a normal work day | C |
| WEAR: personal protective equipment (PPE) as needed and gloves for extended periods of time. | F |
TACTILE STANDARDS
PALPATE: pulses, muscle contractions, bony landmarks, swelling, skin texture
C
DIFFERENTIATE: between temperature and pressure variations
F
VISUAL STANDARDS

READ: accurately, numbers, letters, cursive writing in fine and other print in varying light levels in English.

F

DETECT: changes in skin color, patient's facial expressions, swelling, atrophy, forms of non-verbal communication (gestures)
F
OBSERVE: patient and environmental to assess the patient's condition or needs from 20 feet.
C
SEE: BP manometer, small prints on vials, syringes, dials and gauges
C
COMMUNICATION STANDARDS
SPEAK: in English language in clear, concise manner, to communicate with patients, families, health care providers, community
C
RESPOND: to patient with communication disorders (aphasia, hearing loss)
O
COMPREHEND: oral and written language including health care terminology in order to communicate with patients, families, health care providers and community
C
WRITE: in English, clearly, legibly, for charting and computer input
C
AUDITORY STANDARDS
HEAR: blood pressure sounds through a stethoscope, breath sounds, patient distress sounds, machine timer bells and alarms; verbal directions from supervisor from a distance of 20 feet; verbal requests from patients, physicians, etc.

C
MENTAL/COGNITIVE STANDARDS
Function safely, effectively, and calmly under stressful situations
F
Remain alert to surroundings, potential emergencies, respond to patient situations, ie: falls, pain, change in physical status
F
Integrate information, and make decisions based on pertinent date, in a collaborative manner
C
Interact effectively and appropriately with patients, families, supervisors, and coworkers of the same or different cultures with respect, politeness, tact, collaboration, teamwork, and discretion

C
MENTAL/COGNITIVE STANDARDS (CONT'D)
Communicates an understanding of basic principles of supervision, ethics, and confidentiality
C
Displays basic interpersonal skills necessary to interact in situations requiring close, personal contact
C
Maintain personal hygiene consistent with close personal contact associated with client care
C
Transcript Evaluation
If you are a student with foreign transcripts, you must have your transcripts evaluated by one of the following three companies before applying:
International Research Foundation (IERF)
(310)-258-9451 | www.ierf.org
Academic Credentials Evaluation Institute (ACEI)
(310)-275-3530 | http://www.acei-global.org/application-for-evaluation
American Education Research Center (AERC)
(626)-339-4404 | www.aerc-eval.com