Industrial Partners
The PCC LaserTech program partners closely with technical industry. Industrial partners may review and modify curricula, directly hire graduates or provide internships to enrolled students, donate hardware, offer guest lectures or product demonstrations.
Recent Support and Collaborations
---
Spring 2023 PCC LaserTech students have been visited by many industrial partners. These partners have offered hardware demonstrations and guest lectures to motivate LaserTech students and faculty.
Dr. James Hamilton of Photonic Cleaning Technologies in Platteville, WI demonstrated techniques used to clean optical surfaces via his FirstContact optics-cleaning polymer.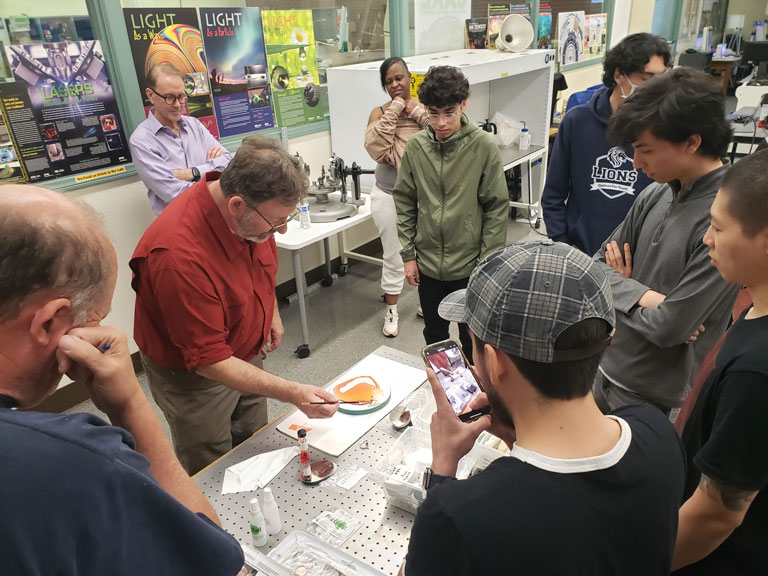 Randy Heyler, formerly of Coherent Ondax in Monrovia, CA, discussed applications of optical devices such as volume holographic Bragg grating filters, as well as a fervent discussion about growing a company, including the integration of design and marketing into business growth.
Engineers from Pacific Light and Hologram in Pasadena, CA visited, and PCC LaserTech students showed them their lab skills, including how to take spectral measurements with our Agilent Cary 7000 spectroradiometer.
Engineers Joshua Munoz, Gerald DeLeon, Miguel Lopez, and Patrick Wilkinson of KLA in Milpitas, CA presented about the myriad electronics that rely on their devices, including computers, cell phones, optical displays, cloud computing systems, electric vehicles, and robotics systems.
Mark Boyle of Amada Weld Tech in Monrovia, CA discussed laser-processing applications such as welding electronics and electric vehicle batteries and marking metals.
John Callas of JPL in Pasadena, CA discussed the operation and development of fascinating atomic clock technologies that enable common electronics and optical devices, including GPS.
PCC LaserTech curricula are now available as Open Educational Resources (OER)
The PCC LaserTech program has released open educational resources (OER) for three of its four courses, in collaboration with the Irvine Valley College's Optics, Photonics, and Lasers Technical Education Curriculum Development (OPAL-TEC) grant (#1801019) from the National Science Foundation (NSF). This means all PCC LaserTech courses are taught with zero-cost textbooks, and that these teaching materials may be used anywhere optical and laser technology needs to be taught. PCC LaserTech faculty created OER from the proven LaserTech teaching materials that include lecture slides, laboratory experiments, exams, quizzes, instructional videos, and hardware demonstrations. These OER have been reviewed by industrial partners and academic affiliates for technical content and relevancy before dissemination. These OER lay the foundation for colleges that are developing similar programs in laser and optical technology by reducing curriculum-development time for instructors.
PCC LaserTech OER are available via LASER-TEC for the following courses.
LASR215 Light and Lasers
https://laser-tec.org/product/light-and-lasers-course-materials/
LASR230 Optical Devices
https://laser-tec.org/product/optical-devices-course-materials/
LASR230 Quality Assurance of Precision Optics
https://laser-tec.org/product/quality-assurance-of-precision-lasers-course-materials/
OER development for LASR260 Metrology of Optical Systems is ongoing.
PCC LaserTech program selected to receive donation of a high-resolution beam-profiling camera from Gentec-EO
The PCC LaserTech program has been selected to receive a donation of the Gentec-EO BEAMAGE-4M beam-profiling camera. This 4.2-megapixel CMOS sensor will help teach LaserTech students the valuable skills of how to make ISO-compliant laser beam and optical system measurements. This industrial-quality camera will be useful when learning about laser fundamentals in PCC's LASR230 Optical Devices course, and about an optical system's point-spread function, an important performance metric, in PCC's LASR260 Metrology of Optical Systems course.
PCC LaserTech students to work with advanced spectroradiometer detector in collaboration with Agilent
In its ongoing effort to advance scientific understanding, Agilent is excited to work with the Pasadena City College Laser Technology Program. This technical collaboration will strengthen the learning ecosystem for PCC LaserTech students by incorporating advanced technology into the LaserTech program's spectroradiometer. This technology will support cutting-edge spectral studies and measurements conducted by PCC LaserTech students. This perfectly aligns with Agilent's commitment to innovate with a purpose and enrich the lives in the communities in which we operate.
Precision Optical continues to offer field trips and shop tours for LaserTech Quality Assurance of Precision Optics students
In an ongoing effort to supply the optics and photonics industry with qualified technicians, Precision Optical partners with local academia, including PCC's Laser Technology Program.

Precision Optical offers PCC LaserTech students field trip classes that cover optical cutting & shaping, fine grinding & polishing, and quality assurance. On these trips, Precision Optical engineers and technicians offer detailed applications-based lectures, then students are given a comprehensive shop tour of each critical department and work center. Students gain exposure to optics cutting, shaping, edging, blocking, beveling, and CNC processing. Students are able to experiment with grinding actual substrates and inspecting parts in process. Several demonstrations are offered, including observation of test plate fringes, autocollimator configuration, goniometer usage, and laser interferometry. Students witness firsthand what it takes to properly fabricate an optical element from raw glass to a complete finished precision optical element! After fabrication is instructed and demonstrated, students are each provided with a unique right angle prism to be inspected to its corresponding ISO 10110 drawing. Students perform a series of inspections using industry-grade equipment, including: visual inspection for surface defects and material imperfections, mechanical inspection of physical dimensions, angular inspection, and analysis of surface texture and surface form.
PCC LaserTech Industrial Partners
---