Off-Campus Access
You can get off-campus access to Library subscription databases if you are a currently enrolled PCC Student or a PCC Staff or Faculty member. Public Patrons can only access these databases from stations located inside the library building.
---
Students
Log in to the databases using your LancerPoint Username and Password. Once logged in, you should be able to access all of our databases. See our troubleshooting tips if you have any trouble getting in!
Faculty and Staff
Log into library databases using the same Network ID and Password as your PCC computer and e-mail account. See our troubleshooting tips if you have any trouble getting in!
Public Patrons
Public Patrons can use our databases inside the library building by obtaining a guest pass at the Lab Desk on the Lower Level.
---
Troubleshooting
Use these frequently asked questions for information that may help you if you are experiencing problems accessing the online resources.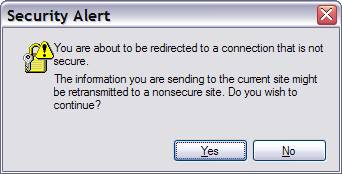 This is not a problem. Just choose the "yes" or "ok" button to continue. Our log in page is set up to use Secure Socket Layer (SSL) technology to encrypt your login, providing additional protection during the login process.
After you have successfully logged in you are connected with the database resource you selected, which in most cases does not use SSL technology. The browser is just letting you know that the site you are being sent to next is not using this encryption technology.
You will get a Hostname Error page when you try to access an address (domain) in one of our databases that has not been set up for use by EZproxy. Database vendors often change their domain names without informing libraries. We might not know of these changes until you report a Hostname Error. Once reported, we can edit our Ezproxy settings so that access becomes available.
To expedite correction of this error, please fill out an Off Campus Access Problem Report.