One-year program. Competitive Salaries. No prerequisites.
---
The Dental Assisting Certificate of Achievement program at PCC is a one-year program that prepares you to begin a career in dental health care. Upon completion of the program, you will be eligible to take the necessary exams to become a certified Dental Assistant (CDA) and obtain license as a Registered Dental Assistant (RDA).
Program Length:




10 Month Full-Time = Two semesters + 1 intersession or options for Part-Time Pathways are available 13 and 24 month

Program Completion:

Certificate of Achievement

Occupational Skills Certificate

Entry-Level Dental Assisting

Optional Advanced Othodontic Assistant

Eligible for Dental Assisting National Board exam & California Registered Dental Assistant exam

Program Accreditation: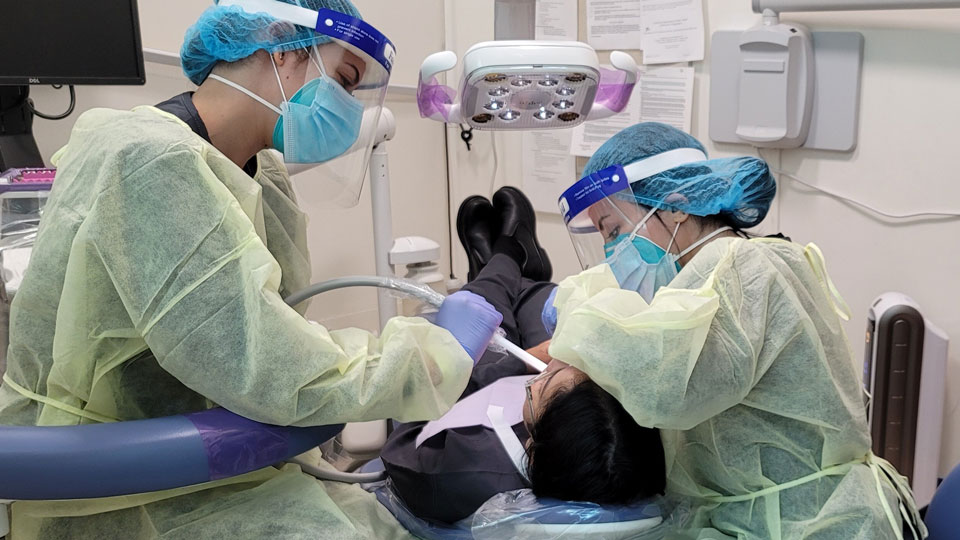 What is a Dental Assistant?
A Dental Assistant is an important member of the dental health team. Working in dental offices, hospitals, clinics, dental schools and professional sales, dental assistants greatly increase the efficiency of the dentist in the delivery of quality oral health care. A career in dental assisting offers a variety of procedures and tasks, including:
Assist with and provide direct patient care including helping the patient feel comfortable before, during, and after treatment.
Take and develop dental radiographs (x-rays)
Sterilize instruments
Take impressions
Perform office management tasks
Communicate with other health care professionals, dental suppliers and insurers
Is Dental Assisting for you?
A career in Dental Assisting will offer you variety, flexibility, excellent working conditions, and personal satisfaction. To succeed in our program and this career field, you must be a team-oriented individual who enjoys working with people. This career is for you if you have good hand/eye coordination, like working on a schedule, communicate effectively in both verbal and written language, and seek satisfaction in helping others. Learn More.
---
Get Started

Applications windows are April 30 - June 30 (Fall Enrollment) and October 1- December 1 (Spring Enrollment)